Do you wanna trade on multiple cryptocurrency exchanges from one platform?
Professional cryptocurrency trading terminals allows traders to track their portfolio, and use multiple cryptocurrency exchanges from one intuitive platform. Whether you are new to crypto trading or old school altcoin trader, trading terminals offer some of the most efficient approaches to trading multiple markets simultaneously.
Efficiency is key for cryptocurrency traders, whether it in terms of speed, arbitrage opportunities, intuitiveness, or simplicity. Trading terminals are designed with traders as the key focus.
However, if you are someone just starting out with the cryptocurrency trading terminals, it might be difficult to come up with the best one for you.
And that is why in this article, we will go through each crypto trading terminal on the market, find what separates them from the rest, and more importantly help you understand what they have to offer.
Note that if you are a newbie just starting out with cryptocurrency trading, we suggest you first check out our Crypto Trading Manual, as it provides immense value in how to start thriving in the markets.
What are crypto trading terminals?
Professional cryptocurrency trading terminals are simply software programs, that allow traders to trade on multiple cryptocurrency exchanges from one platform. But it doesn't stop there, in many cases trading terminals also allow a range of new features, and order types, even though the exchanges themselves might not support these features.
Trading terminals can also make your trading approach more secure, as you don't have to reveal your exchange passwords every time you want to trade on separate exchanges.
This is because cryptocurrency trading terminals use something called API Keys to connect with the exchanges themselves. What this means is you won't have to log in on each exchange separately anymore to trade. Because instead, you can give the trading terminal permission to use the exchange trading features without being able to withdraw your funds.
What are the best crypto trading terminals?
To find out which cryptocurrency trading terminal is best for each person, really really depends on what kind of trader you are.
This is because each trading terminal is designed to meet different criteria. Some people are very short term focused while others only care for longer swing trades. Therefore the approach to using a trading terminal also differs widely for each person.
And for this reason, we've focused on ranking these cryptocurrency terminals in terms of what features they have to offer.
In other words, the more advanced the terminal is the higher it's ranked. This way each and every person can easily choose between simplicity and feature-rich platforms.
Note: Although some trading terminals can be used for automating your trading, we've got another article for this, and if you want to learn more about that you can check it out here.
Lets now look at some of the best cryptocurrency trading terminals on the market.
5 Best Professional Cryptocurrency Trading Terminals:
AltradyCoinigy3CommasCryptowatchKattana
1. Altrady
Altrady is professional multi exchange cryptocurrency trading terminal and signal service.
This platform allows highly advanced management of multiple trading accounts on a variety of different exchanges. And with some of the most unique alternative tools available today. Some of these tools include the ability to keep track of portfolios and manage trades with advanced order types. Break-Even Calculator, that shows clearly the amounts that need to be sold, and what levels in order to break even on specific trades.
Features like this can be hugely beneficial, if you for example like to take trades via using the dollar averaging method when scaling in, or if you just want to average out your position.
Other than that Altrady has a fully customizable charting toolset, unlimited alarms, and a separate signal service (CryptoBaseScanner) that constantly ranks one of the highest providers within different market places.
That being said, in our opinion, the most lucrative approach today is by when you combine Altrady trading terminal, Signals, and smart Bitcoin bot services like 3Commas together for automating parts of your trading.
This way advanced traders can benefit greatly from both worlds, having access to trades while you sleep, and then if necessary managing them manually with the advanced toolset such as the break-even calculator, and ladder orders.
Features
Order types: Market, Limit, Stop Limit, Ladder, OCO.
Fully customizable trading terminal – Altrady has a fully customizable widget toolset, where every tool is movable and can be resized for screens of all sizes.Multi-chart layout – Separate section for multi-chart layout that allows you to add as many charts as you want, and customize this setup as much as you want.Unlimited alarms – Real-time alerts for all popular markets with unique voice popups.Break-even calculator – A break-even calculator that calculates all the necessary dollar- cost-average information without having to use extensive spreadsheets.Portfolio management – A comprehensive portfolio manager that allows users to see the distribution of their assets per currency and exchange.Trade analytics – Analyze your success on trade to trade basis on each market pair. See net profits, and win rates all from one intuitive screen.Multi-platform – The software is available on the web, desktop, and mobile.Notes – Note widget that allows quickly writing down your trading thoughts.News – Widget to show all the relevant news.
Check this short video to quickly see why we think Altrady is so amazing:
Additional features:
Crypto Base Scanner – Signal service that sends thousands of crypto trading signals, and calculates base information for each pair, all available within the Altrady platform.Exchange import – Import trading history from your exchange of choice.Coinigy import – Alternatively you can import trades, and alerts from Coinigy.
Pricing:
Altrady offers several subscription plans with different pricing each designed for separate use cases. Meaning you don't necessarily miss anything if you simply want to use signals for example but don't feel the need for advanced features, the same goes for trading.
Note that Altrady offers a 10-30% discount depending on which subscription timeframe you choose. And there's also a 30-day free trial that includes all the advanced features.
We are also proud to offer you our own unique voucher code: bitshills – that gives you an additional 10% discount on top of the 30% annual subscription discount.
30% + 10% = 40% discount!
Exchanges:
Altrady provides access to 10 most popular and liquid crypto exchanges.
Pros and cons:
 PROS :
The most feature-rich platform for manual trading today.Original QFL signal service provider (CryptoBaseScanner)
 CONS :
Requires separate platform for automating trades.
Try Altrady 30 days for free, use voucer code "bitshills" for addtional 10% discount!
2. Coinigy
Coinigy is a professional multi-exchange trading portfolio management suite.
This platform has been offering some of the easiest and most reliable terminal trading and portfolio management services for altcoin traders since 2014.
Coinigy users can track their success across 45+ most popular exchanges on the market. Exchange portfolios can also be combined with personal wallets all in one intuitive screen.
Traders can have access to Tradingview's advanced charting tools set with up 75 indicators for markets where even the exchanges themselves don't provide these services.
On top of that, there are real-time crypto alerts that can be used to trigger SMS, E-mail & browser notifications.
Powerful API with historical data feed can also be utilized as an individuals & institutions.
Features
Order types: Market, Limit, Stop Limit.
Portfolio management – Coinigy has an intuitive, and easy to use portfolio management suite that can be utilized for exchanges and personal wallets.Market overview screener – A separate fully customizable screen to quickly see a whole range of different chosen markets and statistics.ArbMatrix App – A feature specially designed to find arbitrage opportunities across the multiple exchanges Coinigy supports.Unlimited free alerts – Unlimited crypto alerts with a multi-triggering system.Mobile support – Coinigy is also available on mobile.Insights – Ability to quickly view insights of each market separately.notes – Write down your trading thoughts on the go.
Additional features:
Coinigy CryptoFeed – All in one professional cryptocurrency API for all available exchanges, markets, and currencies that work under a single codebase.Historical data – Coinigy provides historical data feeds of the most popular exchanges as a service that you can purchase and download separately from the trading terminal.
Pricing:
Coinigy comes with a full-featured 30 day trial period and costs $18.66/ month thereafter. Unless you are an API developer, then pricing starts from $99.99 a month.
Exchanges:
Coinigy works with over 40+ crypto exchanges including:
Pros and cons:
 PROS :
Simplistic design, easy to get started.A large variety of exchanges available.
 CONS :
Build around basic trading.
Get 30 day full featured Coinigy trial!
3. 3Commas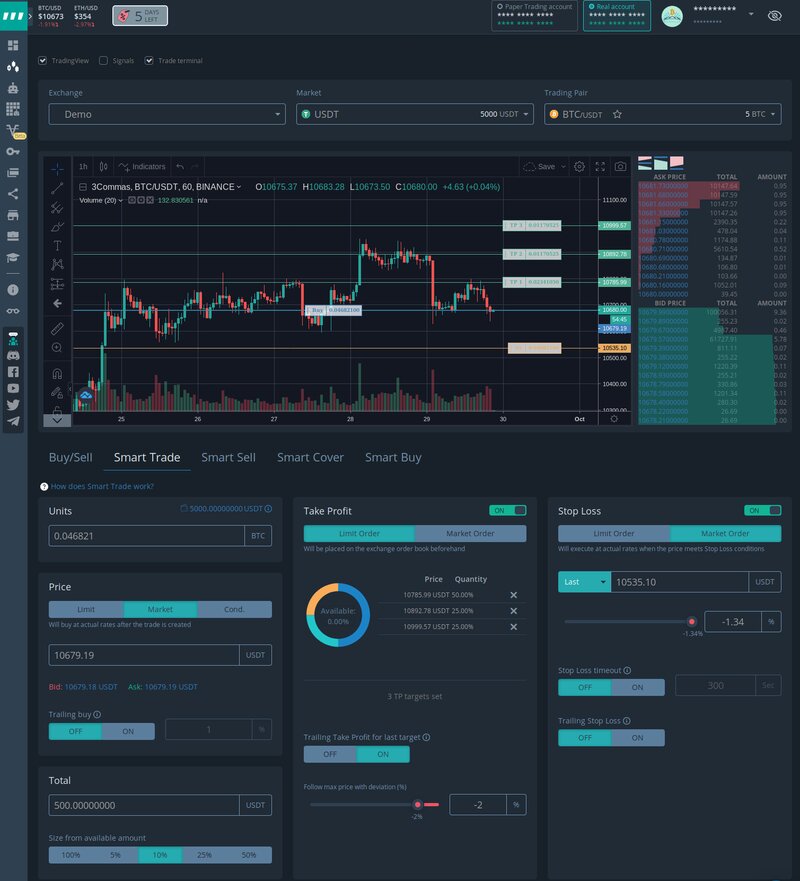 3Commas is one of the most advanced trading terminals & smart botting services.
This platform is very different in this article in the sense that it is mainly focused on providing cloud based crypto trading botting services for advanced traders.
We've already written a separate article that focuses more on these automated services, which you can read here: 18 Best Automated Smart Bitcoin Trading Bots in 2020
However, if we ignore automated botting as a service, 3Commas still offers some of the most affordable advanced trading terminals for manual trade management.
And it is one of the few platforms with highly advanced tools for managing short positions. The platform also has multiple advanced order types and features such as a break-even calculator.
Features
Order types: Market, Limit, Conditional, Stop Loss, Take Profit, Trailing, Ladder.
Breakeven calculator – Auto calculates the total value of your accumulated orders.Portfolio management – Quickly observe all of your exchange funds and personal wallets from one intuitive screen.Trade notifications – Get trading notifications on the desktop, mobile, or in telegram.Trading journal – Gives you the ability to journal your trades as they come. Mobile support – Leverage your time with mobile support on the go.
Additional Features:
Automated Trading – Short / Long with futures bots, simple bots, composite bots, grid bots, option bots, 3Commas is the absolutely #1 choice for running your bots.
Pricing:
With 3Commas if it's only trading terminal features(the ones we've discussed above) that you are interested, then Starter is all you need. However, if you are interested in trading with bots, then PRO is a must-have, as it provides tens of times more value compared to an advanced plan.
Note: You can get 3 days trial with full access to the platform.
Exchanges:
3Commas supports directly up to 23 different exchanges, including:
Pros and cons:
 PROS :
Best botting platform in the industry.Advanced order types & management tools.
 CONS :
Bots required for advanced use.doesn't have a build-in alerting system.
Get 10% discount on your first 3Commas subscription!
4. Cryptowatch
Cryptowatch is an old school Bitcoin charting & trading terminal platform.
This platform was recently bought by Kraken exchange, it offers highly detailed and unique charting tools and order placement features. Users can connect exchanges, view portfolios, trading orders, positions, and history all from one screen.
Cryptowatch is also taking a very different approach when it comes to monetization because this platform is actually free to use when it comes to simple charting.
However, if you want to place trades or alerts you are required to pay per trade basis. Meaning instead of subscription bills, users purchase simple credits that can be used for different features in the platform.
Features
Order types: Market, Limit, Stoploss, Take profit, Stop limit.
Highly detailed overview – Cryptowatch offers a highly detailed overview of different assets, exchanges, and markets with stats like liquidity, and volumes ranked.Portfolio management – Ability to manage exchange portfolios.Correlations – Ability to quickly view positively & negatively correlated assets on all markets.Alarms – Unlimited alarms with 1 credit per alarm.
Pricing:
Cryptowatch is free to use but requires credits for advanced features, such as trading using the API and crypto price alerts. New users are rewarded with 250 free credits.
500 credits cost = 5$, the more you purchase the higher bonus aplies, all the up to 40%.
Exchanges:
+28 exchanges, including:
Pros and cons:
 PROS :
Requires no account to get started.Free to use, unless you want to trade.
 CONS :
Create free Cryptowatch account!
5. Kattana
Kattana is a professional trading terminal for cryptocurrency traders and investors.
This platform is in many ways very similar to Coinigy, as it offers the basic terminal features you'd expect. Users can connect multiple exchanges, analyze markets, view portfolios, manage trades, and positions.
Where Kattana differs, however, is it's the free beta pricing structure, meaning the platform is still in its early phase, and therefore currently free to use, we do not know if this is how it stays.
Other then that, Kattana also offers the ability to fully customize the platforms and it's widgets similar to what is possible within Altrady trading terminal.
That being said, this platform is in many ways what we are highly anticipating in order to see how it evolves, as it truly has great potential going forward.
Fatures
Order types: Market, Limit, Take Profit, Stop Limit.
Fully customizable charts – Kattana comes with fully customizable widgets sizable on every screen and area of your choice.Portfolio management – Manage all exchange portfolios on one screen.News – Read the latest news regarding markets from one widget.
Pricing:
Kattana offers totally free advanced trading experience available to anyone, simply launch a web-based chart, and connect your API keys, and you are ready to go.
Exchanges:
Binance, Bittrex, HitBTC, Bitmex, OKEX, Kucoin
Pros and cons:
 PROS :
Absolutely free to use.Fully customizable design.
 CONS :
No build-in alerts.Only good for basic trading.
Get started with Kattana trading paltform!
Conclusion
There has never been a boring day in cryptocurrency markets, unlike traditional markets that go to sleep at every weekend. Cryptocurrency markets are constantly evolving, growing, and chancing, acting like a wild west horse on steroids.
These are just a few reasons why after trying crypto trading terminals the change becomes almost necessary, as it's becoming almost impossible to imagine using the old and slow approach anymore.
And not only can you securely access multiple exchanges simultaneously, but you have a range of new tools and features available on your fingertips to become more profitable as well.
That being said, if you are new to trading, or want to learn more, we suggest you check our advanced Crypto Trading Manual, as we've put everything into this blog post, making it the ultimate traders guide!
Remember: Trading & investing involves risks and profits are not guaranteed!
Here's also some other trading related articles you might find interesting: